Roger Williams Park offers lots of spooky (and not-so-spooky) family fun this month!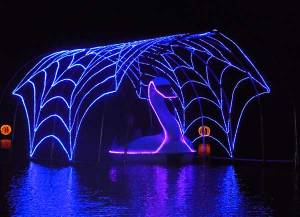 Illuminated Swan Boat Rides
October 3-November 3 | 6:00-10:00 PM
Polo Lake, next to the Zoo (map)
Take a magical nighttime paddle and navigate a series of illuminated tunnels throughout Roger Williams Park's ponds. Hot apple cider and hot chocolate are available to enjoy on your ride! Learn more >
Jack-O-Lantern Spectacular 2019
October 3-November 3 | 6:00-10:00 PM
Roger Williams Park Zoo (map)
Travel through a seasonal wonderland! Feast your senses on autumn's beauty, winter's swirling snow, spring's first blossoms, and summer's ocean breezes intricately carved on thousands of pumpkins. Learn more >
Williams Family Cemetery Walk
Saturday, October 26 | 10:00 AM-12:00 PM
Meet at Betsey Williams Cottage (map)
Museum docent and archivist Richard Siembab will lead a walking tour of the Park's historic Williams family cemetery. Learn who's buried there and what those curious headstone symbols mean. Learn more >
Creepy, Crawly Family Fun Weekend
Saturday, October 26 & Sunday, October 27 | 10:00 AM-4:00 PM
Museum of Natural History (map)
Enjoy spooky fun crafts, a Halloween museum quest, museum vault tours, creature features and a trick-or-treat bag full of Halloween fun! Visitors receive a complimentary treat bag. Free museum and planetarium admission for costumed visitors. Learn more >
For other upcoming activities at Roger Williams Park, visit the Conservancy's events calendar.